SuperFlex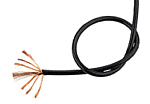 "Superflex" single conductor wire is commonly comprised of soft bare or tinned copper in basic sizes 36 AWG through 44 AWG which are configured into a high strand count of bunched or rope lay conductor. Typical strand configurations are outlined in the table below (or here for a PDF printable version), others are available if needed.
Specially formulated insulators, most often polyvinyl chloride or thermoplastic rubber, provide a soft and pliable insulation.
The combination of these characteristics results in an extremely limp and flaccid wire which will provide a high fatigue or flex life in applications subjected to a large number of bends or flexes.
For extremely severe flex-life, fatigue strength, or tensile strength requirements, Superflex may also be fabricated with high strength cadmium copper alloy (or RoHS compliant cadmium – free alloy) conductors. A wide range of Tinsel conductors are also available to use in selected (usually very low current) Superflex designs requiring the ultimate in flex-life and limpness.
Superflex can also be furnished in ripcord configuration of two or more wires, in shielded and jacketed cable, multi-conductor cable, retractile cords and other assemblies.
AWG

# Strands &
AWG Size
Conductor
Construction
Conductor
Diameter
.010″ Wall
OD
.016″ Wall
(a) OD
.032″ Wall
(b) OD

30

26 – 44

26/44

0.013

0.033

0.045

0.077

29

33 – 44

3/11/44

0.016

0.036

0.048

0.080

28

41 – 44

41/44

0.015

0.035

0.047

0.079

26

64 – 44

4/16/44

0.020

0.040

0.052

0.084

 

64 – 44

64/44

0.019

0.039

0.051

0.083

24

64 – 42

4/16/42

0.026

0.046

0.058

0.090

 

105 – 44

7/15/44

0.029

0.049

0.061

0.093

22

66 – 40

2/33/40

0.031

0.051

0.063

0.095

 

105 – 42

7/15/42

0.031

0.051

0.063

0.095

 

168 – 44

7/24/44

0.032

0.052

0.064

0.096

21

210 – 44

7/30/44

0.036

0.056

0.068

0.100

 

133 – 42

7/19/42

0.035

0.055

0.067

0.099

20

105 – 40

7/15/40

0.040

0.060

0.072

0.104

 

168 – 42

7/24/42

0.040

0.060

0.072

0.104

 

266 – 44

7/38/44

0.040

0.060

0.072

0.104

18

168 – 40

7/24/40

0.052

0.072

0.084

0.116

 

413 – 44

7/59/44

0.052

0.072

0.084

0.116

16

168 – 38

7/24/38

0.067

0.087

0.099

0.131

 

665 – 44

7/95/44

0.066

0.086

0.098

0.130

14

413 – 40

7/59/40

0.077

0.097

0.109

0.141

 

665 – 40

7/95/42

0.080

0.100

0.112

0.144

 

1176 – 44

7/3/56/44

0.090

0.110

0.122

0.154

12

413 – 38

7/59/38

0.108

0.128

0.140

0.172

 

665 – 40

7/95/40

0.104

0.124

0.136

0.168

 

1666 – 44

7/7/34/44

0.112

0.132

0.144

0.176

10

413 – 36

7/59/36

0.130

0.150

0.162

0.194

 

665 – 38

7/95/38

0.134

0.154

0.166

0.198

 

1050 – 40

7/150/40

0.130

0.150

0.162

0.194

8

665 – 36

7/95/36

0.166

0.186

0.198

0.230

 

1050 – 38

7/150/38

0.166

0.186

0.198

0.230

 

1666 – 40

7/7/34/40

0.180

0.200

0.212

0.244

6

1050 – 36

7/150/36

0.204

0.224

0.236

0.268

 

1813 – 38

7/7/37/38

0.229

0.249

0.261

0.293
(a) Available with UL AWM 1007 listing
(b) Available with UL AWM 1015 and CSA-TEW listing
Selected High Strength, RoHS Alloy strandings are also available
Not all strands listed are in stock