Single Conductor
Our Single Conductor product line includes a wide variety of:
Copper Conductors
32 AWG Through 10 AWG
Soft Bare Copper (ASTM B 3)
Soft Tinned Copper (ASTM B 33)
Bare or Tinned Alloy Conductors
Stranded Configurations
Bunched – Standard or Smooth
Concentric – Semi, True, Unilay, Equilay, Rope Lay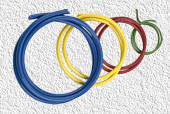 Bonded Conductors
Gavitt "Bunched Tinned" Conductors provide a bunched or semi-concentric strand with each member bonded to its outer layer neighbor with pure tin (not tin/lead alloy). The process is strictly controlled to provide optimum flexibility and fatigue life as compared to other methods of bonding.
Tinsel Conductors
A metal and textile composite conductor usually made by helically winding one or more flat ribbons of copper or copper alloy around a fabric core (such as polyester, Nomex, Kevlar, fiberglass, cotton) with several of these composite strands twisted together to make the completed conductor. The ultimate in flexibility and fatigue life. Available in a wide range of constructions to provide values of circular mil area, resistance, strength, size, processing parameters and other attributes demanded by your application.
Insulators
Available in a wide range of standard and matched colors
Manufacturers' temperature ratings from -70°C to +125°C (FEP -80°C to +200°C)
Various durometers, very soft to semi-rigid
UL and/or CSA Listings Available